Author Bio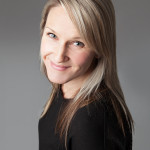 Ali Bryan is an award-winning novelist and creative non-fiction writer based in Calgary, Canada. Her first novel Roost (Freehand, 2013) won the Alberta Literary Awards Georges Bugnet Award for Fiction and was the official selection of One Book Nova Scotia. She twice long-listed for the CBC Canada Writes Creative Non-Fiction prize for her essays "Asshole Homemaker" and "Mints After The Meal." "Mints After The Meal" was also shortlisted for the Alberta Literary Awards Jon Whyte Memorial Essay Award in 2015. "Let's Talk" was nominated for the same prize in 2016.
Her writing has been described as being "as funny as it is smart" with one reviewer saying she has a "standup's knack for candid detail and dialogue, leading you to expect the expected, only to deliver the timely left hook that shatters it."  Of her debut novel Roost, Quill & Quire wrote: "in the vein of hip, modern mothers like Kelly Oxford, Bryan mines the experiences of Claudia's children for humor." The National Post said, "Roost is hilarious. Ali Bryan is a master of deadpan delivery and is a seemingly endless source of deft one-liners. And The Winnipeg Review said, "Bryan's dialogue and character interaction are so spot on, and the rare occasion where she does take the chance and delves beneath the super funny surface of asshole-dom, she is dazzling."
Ali is a certified Personal Trainer and works as a Production Coordinator for The Royal Nova Scotia International Tattoo. She is represented by Jill Marr of the Sandra Dijkstra Agency. Her second novel The Figgs will be released in the Spring of 2018.
For Roost related inquiries, please contact:
Kelsey Attard, Managing Editor, Freehand Books
For other inquiries, please contact Jill Marr of the Sandra Dijkstra Agency